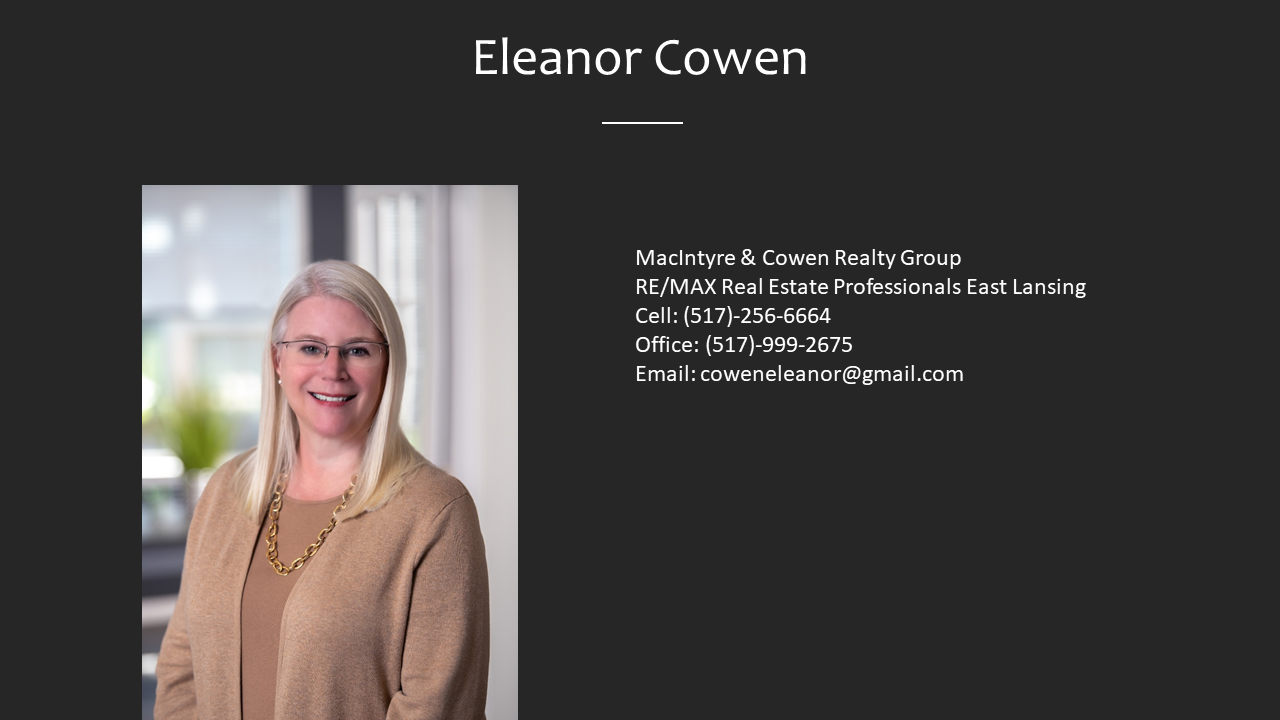 Eleanor Cowen, RE/MAX Real Estate Professionals- East, Co-Owner of the MacIntyre and Cowen Team, and experienced Buyer's Agent Specialist on the MacIntyre & Cowen Team, brings years of real estate, design, and sales experience to work for you. Born and raised in Okemos, Michigan with a strong connection to Michigan State University, Eleanor offers the local expertise to ensure your solid investment. Eleanor is a knowledgeable professional with the integrity to successfully represent you in your home purchase. She is a graduate of Rhode Island School of Design with a Bachelor of Fine Arts. She also attended Michigan State University and L'ecole des Beaux-Arts de Versailles in France. She was an interior decorator for over a decade. She has a vast knowledge of construction and the latest trends in home design and interiors. Eleanor is fluent in both French and Dutch. While living on the East coast, she was awarded the coveted Fleet Bank Textile Commission for their corporate headquarters and her textile designs were published in numerous books.
Eleanor Cowen has a proven track record of navigating through many of the most difficult circumstances in the real estate industry through thousands of successful transactions and happy clients over the past years. Eleanor and her team of agents are well versed in all types of home sales including residential, luxury, investment, relocation, new construction; and offer free accredited buyer representation with experienced, honest, and hardworking buyer specialists.


Eleanor's Clients Testimonials

Laurie Adelson
"Eleanor came highly recommended and was a pleasure to work with while selling my Mother's home. She has a tremendous amount of experience and is very responsive to any and all questions or requests. She helped us determine a fair price and navigate several offers. We were very happy with the outcome. I highly recommend Eleanor for anyone looking to buy or sell a home."

Positives : Professionalism and Responsiveness

Michelle Gates
"Eleanor and her team are amazing and I would highly recommend them to anyone looking for a realtor! They are professional, organized but what I think they absolutely excel in is their communication. They were incredibly responsive when I would reach out to them but more often than not they were calling\emailing me first to keep me updated and let me know what was going on so I did not have to wonder. I cannot say enough positive things about the MacIntyre & Cowen Remax team!"

Positives : Professionalism, Quality, and Responsiveness

Alex Kang
"Even before I heard horror stories of other home-buying experiences during this pandemic, I really appreciated the attention and effort Eleanor gave us for the nearly 40 days of daily email, text, and phone contact. My wife and I were moving from out of state due to job changes so it was even more difficult to buy a house and have us as a client.
We started off giving her our criteria and she sent us daily lists of properties that matched them all, making sure we were aware of important regional differences like the FEMA flood map. We also sent her a number of properties from redfin and Zillow to which she quickly scheduled appointments, usually by the next day. Initially, we tried to see the properties in person, but our connecting flight was canceled due to the unpredictable snowstorm that killed power to Texas, so we decided not to go through the hassle of pandemic airline travel again.
Eleanor took numerous walk-through videos for us with plenty of commentary and never hesitated to do follow-up videos of areas we wanted more detailed views of. She was also happy to schedule these visits with family and friends we had there to help provide other opinions to us in terms of perspective, depth, walkability, all things about a property one has to physically be present for in order to make the best assessment. She was great about using free services like facetime and google photos to quickly share videos. She even went so far as to join the nextdoor.com community of our neighborhood to see the discussion about recommended professionals for refinishing floors (our future house had real oak wood floors).
Some fast facts:
- Our serious search started Feb 1st
- We asked her for details about 14 houses
- She did video visits for 6 of those
- We put in offers with contingencies for 4 of those
- We thankfully closed (Mar 16) on one with 85% of our requirements in time for our move
- She never considered properties that waived an inspection
- Always got us disclosures and comps the same day
- Responded to every item in every communication we had
When we were finally able to walk into our new home there were obviously some pleasant and unpleasant surprises, but they were all unavoidable given that we purchased the house "site unvisited". Eleanor did an amazing job advocating for us and protecting us during the whole process. The value of a realtor in current times is easily exemplified by her and her team; it did not take long for us to realize how lucky we are we found her."

Positive : Professionalism, Quality, and Responsiveness

Kelsey Johnson
"Eleanor went above and beyond to help my family and my sister passed and we needed to sell her home. We were out of state and she was so helpful in getting people to help clean it up and get it ready to be sold. We had several difficult issues come up and Eleanor handled them all with such kindness and professionalism. We are forever grateful!"

Positives : Professionalism, Quality, Responsiveness, Value

Brian Horvath
"Eleanor was great to work with. She has helped us to buy and sell homes twice over the last few years. The buying/selling process is very stressful and Eleanor goes above and beyond to make the process as painless as possible. She is very knowledgeable and it seemed like she was always available to answer our many questions. In addition to being very good at what she does, she is a very nice person and is a pleasure to work with. We would highly recommend her to anyone looking to buy or sell a home."

Positive : Responsiveness

Brianna Boring
"I very highly recommend Eleanor! She worked with me for many months while I struggled to find a house and she was very patient and helpful during the entire process. I was a first time homebuyer and she helped make sure I was making the right decisions. I now have a home that I love thanks to her!"
"Fabulous experience. Eleanor was knowledgeable and very quick to respond to any questions that we had no matter what time of day or evening when we had a question. Made the process very easy. We were a bit rusty as we had not purchased a home for 26 years and now everything is electronic; but Eleanor was able to guide us through every step. I would recommend her as an agent to any one who wants an easy and successful experience. Very personable and not pushy at all. We appreciated that."
"Eleanor is the best there is…. I have never met anyone like her, she knows the business front and back and is extremely reliable. We have used her for several houses and when we refer her everyone loves her. Thank you Eleanor for your hard work and wonderful friendship."
"If you need a real estate agent to help you buy or sell, this is the place to go. Eleanor herself is extremely knowledgeable about the housing market as well as the houses themself. She would never pressure you into purchasing any home, especially a home you aren't completely convinced you want. I have gone through their office to buy 5 homes, as have all of my friends and family to whom I have recommended Eleanor."
"This summer we had the pleasure of working with Eleanor, who was wonderful. Personally, my favorite qualities were her candidness and honesty. Other than that there are too many positive things to say, so I'll just leave it at this: we wouldn't hesitate to work with her again in the future (we'd actually look forward to it) and would recommend her to others in a heartbeat."
"Eleanor was just perfect, especially for us being first time home buyers. She was both patient yet attentive of guiding us through the process. The whole team made the process nearly seamless. Mike & Liza Secord"
"Working with Eleanor to buy our house was excellent, every step of the way. We were moving from out of state, and we had only a 48-hour visit to find and put an offer on a home. This was intimidating because houses were selling very quickly in the area. But Eleanor made sure we had a successful offer on a house we loved by the time we left. She dedicated the two days to taking us around to showings, creating a really well-organized and efficient "tour" for us of homes meeting our criteria. Eleanor's knowledge of the area and the market made it all work – she was able to figure out very quickly what the status was on the homes we were interested in and made sure we didn't miss an opportunity! Eleanor was also super responsive. I don't think she ever took longer than a few minutes to respond to email, text, or call, regardless of the day and time. Everything was smooth and successful. Even my two year old daughter loved Eleanor!"
"We worked with Eleanor Cowen, looking for a home in Okemos, moving from out-of-state. This was, hands down, the best real estate experience we've ever had. Eleanor was always immediately responsive, helpful in narrowing our search and great about arranging her schedule to give us undivided attention when we traveled from NC to look at homes. She went above and beyond in helping us purchase a home that was in high demand quickly and efficiently and facilitated a long-distance closing. We so highly recommend!"
"This was the second house I've purchased with Eleanor. She has gone above and beyond my expectations. She was available when I had questions and was more than happy to help with anything needed. She made the process as easy as it can be and was an advocate for me through the whole process. Thanks again, Eleanor!"
"Eleanor Cowen was premier as our buyers' agent for our first rental house purchase. She went far and above the minimum and really helped us through the process. We left the closing feeling like we made a new friend."
"Where do I start well Eleanor of course is the most awesome real estate agent ever. There are many things that make her special from knowing things about a house that other people may not know and pointing things out to you that are very important she's always staying in contact and following up with you I don't know what I'd do without her we have used her more than once and are very happy with her and her company."
"Highly Recommend Eleanor. I already bought several houses with her. She is an expert. If she is not with me, I never give an offer out. I was impressed by her accurate evaluation of a property. The price always goes as she expected. She is very knowledgeable about houses. She told me how much I would spend to fix the house. Finally, the cost would be very close."
"We had an amazing experience working with Eleanor to buy our house. This was our first time buying a home, and she made the experience incredibly easy! She came highly recommended, and we couldn't have been happier. Definitely the best choice we could have made!"
"Eleanor was incredible with helping us every step of the way. She gave us ideas for financing, improvements, and was a professional. I can't say enough great things to express how well she did her job. Thanks a bunch Eleanor!"
"Well all I can say is that Eleanor is the best out there. She worked with us for a few years & I always felt bad to pull her to a house and it didn't work out for me. She is such a trooper & totally there for you. We finally found our house & she made the whole process almost worry free. We have told everyone we know about her & how great she is to work with & if they're thinking about selling she's the one you want as your realtor!!! Thank you Eleanor you truly are the best & so is your whole staff!!"
"Eleanor is the best!!!!!!!!!! She got us into every house we wanted so see ASAP. When you look at as many houses as we did, you have to see your agent a lot, which means you need to be comfortable around them. Eleanor is now considered part of our family. She found every flaw and made sure the house we wanted was what we got. The closing process was fairly quick and she updated me as often as she could. I will never use any other agency. They are the best!"
"I can't rave highly enough about Eleanor and her team. During every step of the process she went above and beyond. I was not in MI for the majority of the process and she walked me through every step. Never getting frustrated with my million questions. Eleanor is patient, always available to clients, and a tremendous source of knowledge."
"Great team, professional, helpful, photographer wonderful work. From start to finish."
"Fantastic service, very professional; made the whole process as smooth and painless as possible."
"I was extremely impressed by the level of service provided. Eleanor is experienced, professional, hard working and a pleasure to work with. It was refreshing to work with someone so customer oriented and accommodating. The only thing I regret is that I did not also use her as my seller's agent or take her recommendation regarding lenders since she networks with other outstanding professionals. She definitely sets the standard for the industry. You could not find a better realtor!"
"Eleanor has been very helpful in identifying opportunities for investment properties!"
"We recently sold our home and bought a home with the help of Peter MacIntyre and his team. We would highly recommend them to anyone looking to buy or sell a home. Peter was our sellers agent and priced the home appropriately. We had showings requests within a few hours and offers coming in within a few weeks that were at or above asking price. Eleanor was our buyers agent and we cannot say enough good things about her. We looked at a lot of homes before we found the right one. She was very patient with us and VERY knowledgeable whenever we had questions. Her expertise goes way beyond what a "typical" agent does. There were a few hiccups during our sale and purchase that neither party could control, but having them on our side made the process so much easier. If you're looking for a team that you can rely on and will go the extra mile to make it happen if needed, this is it! We are now enjoying our dream home and couldn't be happier with our decision. Thanks guys!"
"I want to thank you and your staff for your professional services. Your cooperation and keeping my wife abreast of any current developments facilitated not only a smooth closing but extreme satisfaction. We would without any hesitation recommend your services to any of our friends. Every detail was handled promptly which is the reason why any enterprise should and receive full recommendation. Your staff and personal interest were most appreciated."
"Eleanor, we want to thank you for all your help with our purchasing of our new home! Your patience and expertise has been invaluable! We will recommend you to anyone we may meet that is house hunting or selling and we know they will be in excellent hands!"
"We interviewed the most highly rated Realtors in the greater Lansing area. Our decision to choose MacIntyre and Cowen proved to be the absolute best choice. Peter was our selling agent and we had multiple showings within the first 48 hours and 1 offer. We accepted a 2nd offer (over asking price) within 4 days of sale. We had previously had the house on the market the year prior for a lessor price with another Realtor with no success. Peter is focused on their firm being the very best it can be giving their associates training in many fields for their success and yours.
Eleanor was our buyer's agent. Although our home purchase was not on a grand scale I really cannot say enough of the attention she gave us looking for a new home. As someone that is knowledgeable with the building trades I was amazed at the construction/mechanical knowledge Eleanor possesses. She answered every question we had and they were many. She and her team were absolutely wonderful to work with and were with us every step of the way.. Eleanor once mentioned to me about wanting to be someone's Realtor for life. I am that someone."
"We worked with both Peter MacIntyre and Eleanor Cowen on selling and buying our house. Peter was our selling agent and did a fantastic job in helping us price the home and prepare it for viewing to sell fast. Our home was on the market for a total of 48 hours before we had 3 offers, all at or over our asking price. Eleanor was an amazing buying agent. She was patient, willing to answer the (many) questions that we had throughout the process and even helped steer us towards our new home when we thought the numbers wouldn't work. Together, the MacIntyre & Cowen team was excellent and made the selling and buying process as stress free as it could possibly be. Highly recommend!"
Deb K.
"Eleanor Cowen was my agent and I would use her again in a heart beat. It was a very fast and easy purchase. Eleanor was quick to respond to any question and made sure that everything was taken care of so that I didn't have to worry about anything."